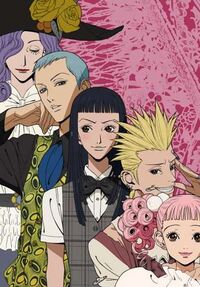 Paradise Kiss
is a 2005 anime series based on the manga, written, and illustrated by
Ai Yazawa
. It aired from October 13, 2005 to December 29, 2005, and consisted of twelve episodes.
The anime was licensed by Geneon Entertainment for release in North America. While, Geneon Entertainment still retains the license to the anime, they signed a deal with Funimation Entertainment giving them all rights to manufacture, market, sell, and distribute the anime.
Yukari Hayasaka and George Koizumi are voiced by Yu Yamada and Kenji Hamada in Japanese, and Julie Ann Taylor and Patrick Seitz in English.
Tomoko Kawase sang the opening, "Lonely in Gorgeous" under the pseudonym, Tommy february6. Franz Ferdinand's song, "Do You Want To" is featured as the ending, with the animation of Hiroyuki Imaishi.
Series #
Title
Airdate
Production code
1
"Atelier"
"Atorie" (アトリエ)
October 13, 2005
101
2
"Illumination"
"Irumineeshon" (イルミネーション)
October 20, 2005
102
3
"KISS"
"KISS"
October 27, 2005
103
4
"George"
"Johji" (ジョージ)
November 3, 2005
104
5
"MOTHER"
"MOTHER"
November 10, 2005
105
6
"NEW WORLD"
"NEW WORLD"
November 17, 2005
106
7
"Butterfly"
"Chou" (蝶)
November 24, 2005
107
8
"Tokumori"
"Tokumori" (徳森)
December 1, 2005
108
9
"Designer"
"Dezaina" (デザイナー)
December 8, 2005
109
10
"Rose"
"Bara" (薔薇)
December 15, 2005
110
11
"Stage"
"Suteeji" (ステージ)
December 22, 2005
111
12
"Future"
"Mirai" (未来)
December 29, 2005
112