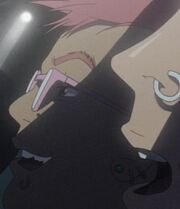 Mohawk Sugita is a chubby fellow seen talking to Johji about his fashion project in one of the earlier episodes. He is seen shouting in the audience during the opening, and he is brought to tears in episode 11 seeing Carrie's dress. He isn't actually referred to by name until the afterparty (10m40s) when Arashi refers to the weeping.
It's mentioned that he also designed a dress for the show but it wasn't clear what place he came in (possibly first).
Ad blocker interference detected!
Wikia is a free-to-use site that makes money from advertising. We have a modified experience for viewers using ad blockers

Wikia is not accessible if you've made further modifications. Remove the custom ad blocker rule(s) and the page will load as expected.