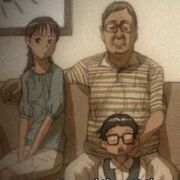 Yukari's father is the father of Yukari Hayasaka (along with Suguru) by Tomoko. He is seen in a flashback she has of entering middle school 5min into episode 6.
He seems to be more supportive of his daughter than Tomoko was as it's only Yukari's mother who lectures her at not succeeding her expectations. While he is proud of his son being a prodigy, he also is proud of his daughter and wants her to follow her dreams.
Ad blocker interference detected!
Wikia is a free-to-use site that makes money from advertising. We have a modified experience for viewers using ad blockers

Wikia is not accessible if you've made further modifications. Remove the custom ad blocker rule(s) and the page will load as expected.